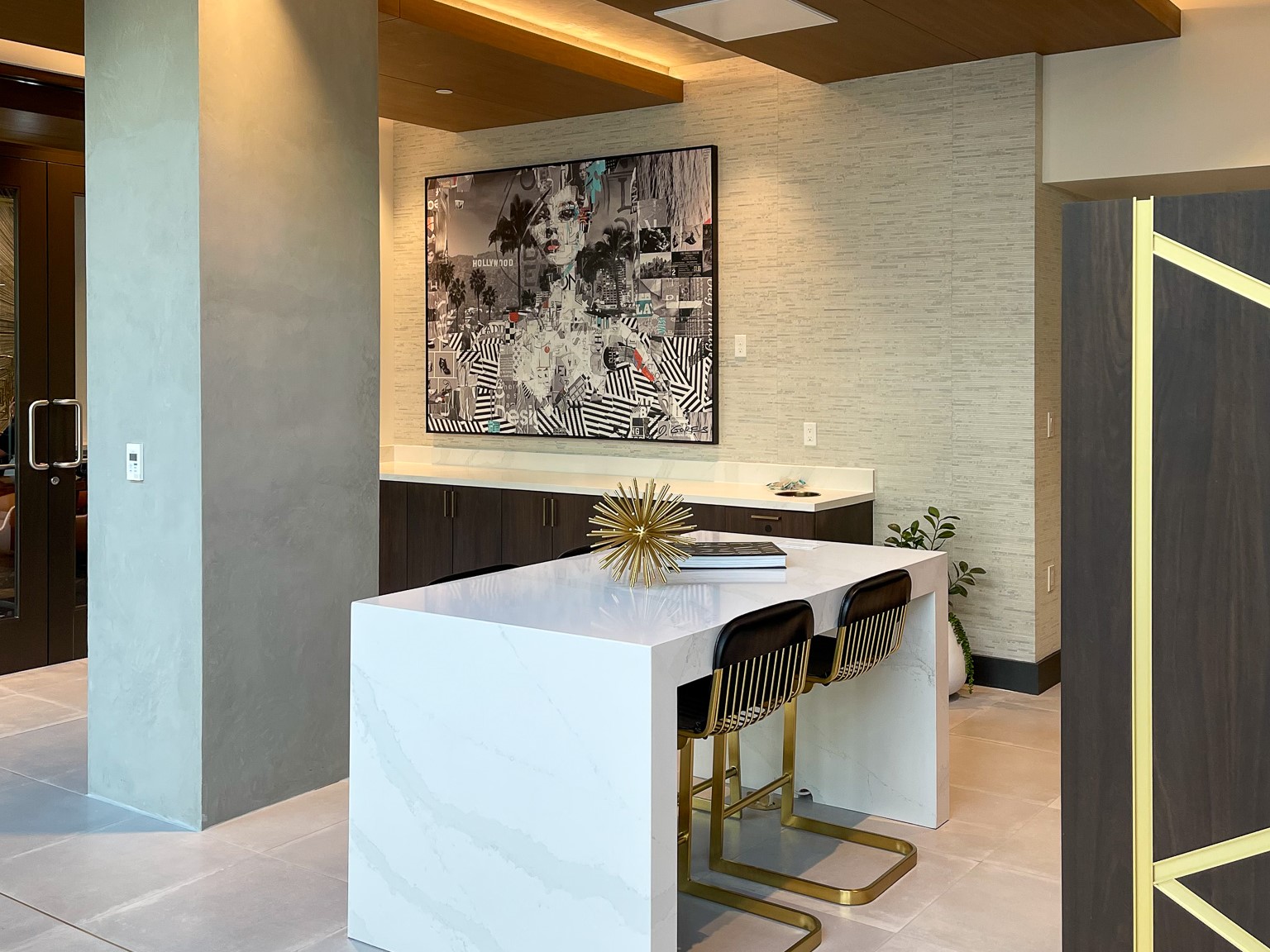 An Art and Design Collaboration at Wallace on Sunset
As interior designers, we have the opportunity to play with color, texture, and finishes as well as the form and function of a space. It's a great joy to be able to embellish, or sometimes even design a space around, art that goes beyond aesthetics to display deeper meaning.
Art pieces chosen with thought and intention make a lasting impression on the viewer. Our recent Hollywood multifamily project Wallace on Sunset by Essex Property Trust presented the unique opportunity to think beyond the abstracts and capture history in a way that's enjoyed by young and mature alike.
About the Project
Wallace on Sunset is an architectural and design homage to Hollywood's late 1930s Broadway scene. It stands adjacent to the Earl Carroll Theatre Building, a recently designated Historic-Cultural Monument and a memorable California landmark. The client's vision was to capture the relevance of the site and the neighborhood and keep it alive through art. Priya Chawla, Design Tec's Director of Multifamily Design, contemplated ways to express the rich history of performing arts and music that happened next door, in a way that's enjoyed by the residents that come to live in the community. Chawla spoke with many talented artists and craftspeople to see what would fit within the available budget and timeline.
It was during this search that she discovered the Miami-based collage artist Derek Gores on social media. A collaboration that began with just one art piece turned into multiple because Gores so perfectly captured the essence of the project. Chawla brainstormed with the client and the artist to find ways to celebrate the property's namesake Beryl Wallace along with the many layers of history in a fun, memorable way. The collaboration process involved the initial selection of iconic photographs, color coordination with interior FF&E, and sizing and framing.
Meet the Artist: Derek Gores
Gores is part of the New Contemporary Movement and plays in a post-Internet and post-pop-art vista.

What is your inspiration?
I make my collage pieces in the figurative art genre, inspired by the German Expressionists of 100 years ago when image-based art really took the leap into abstraction after the camera was developed. Gustav Klimt and Egon Schiele, Franz Kline, and others. I think I update things in collage, referencing classic beauty and nostalgic design, but with a modern feminist strength and poise. That's my aim.
For the art piece you created of Beryl Wallace at Wallace on Sunset, what materials did you use/can you tell us a bit about the behind-the-scenes process?
I dug deep into the research, watching Murder at the Vanities and clips from several other films. I found many vintage posters and Hollywood magazines, Beryl Wallace's stunning headshots, show tickets, and maps from the period, and printed out elements to use in the collage. I did not use any original artifacts in the collage. It took a while to spot just the right main image to serve as the reference – the perfect combination of beauty, elegance, determination. In the finished work, I decided on a tinted black and white look, plus a pop of red/orange to reflect the time.
What do you love about collage? What does it feel like to make your art?
I get to play with the senses, to mingle nostalgia with the right now. Collage lets me use all kinds of printed material from all the way back. Scripts, song lyrics, photographs, love notes. The fascination is in the hint of the original context, recombined in a dream-like poetic way to create a new image. Absorbing that new image is a live experience.
What do you enjoy about working with luxury properties? You've worked with Hotel Bel-Air, Loews Hotels, and even luxury retailers like Rinascente.
Great designers and owners know the importance of art. Art takes you to that child-like state of play, clashing with our adult cravings. Great art is escapist and personal, and that is possible even in a public space like a hotel. I love collaboration, and enjoy hearing the vibe and mission of a place and then having room to create the art to help us get there.
What is the biggest challenge you face when you begin a new project? Or tell us about a specific challenge you overcame in a project in the past? How did it go?
Most of my art is a single piece, hinting at one story. One recent challenge however was creating 20 pieces for Rinascente, the luxury Italian retailer, to be used in their spaces but also as their ad campaigns for the year. I worked with their art director and photographer as they created photoshoots for me depicting the full lifestyle of their Rinascente guests. It was a worthy challenge having these consistent characters show up across multiple artworks. Several examples: https://vimeo.com/294665114
Tell us about some of your current projects.
I'm working on an exhibit in the UK called Sleeping With Art https://www.sleepingwithart.com/ and plotting big ideas for Scope during Art Basel Miami this December.
How can designers contact you?