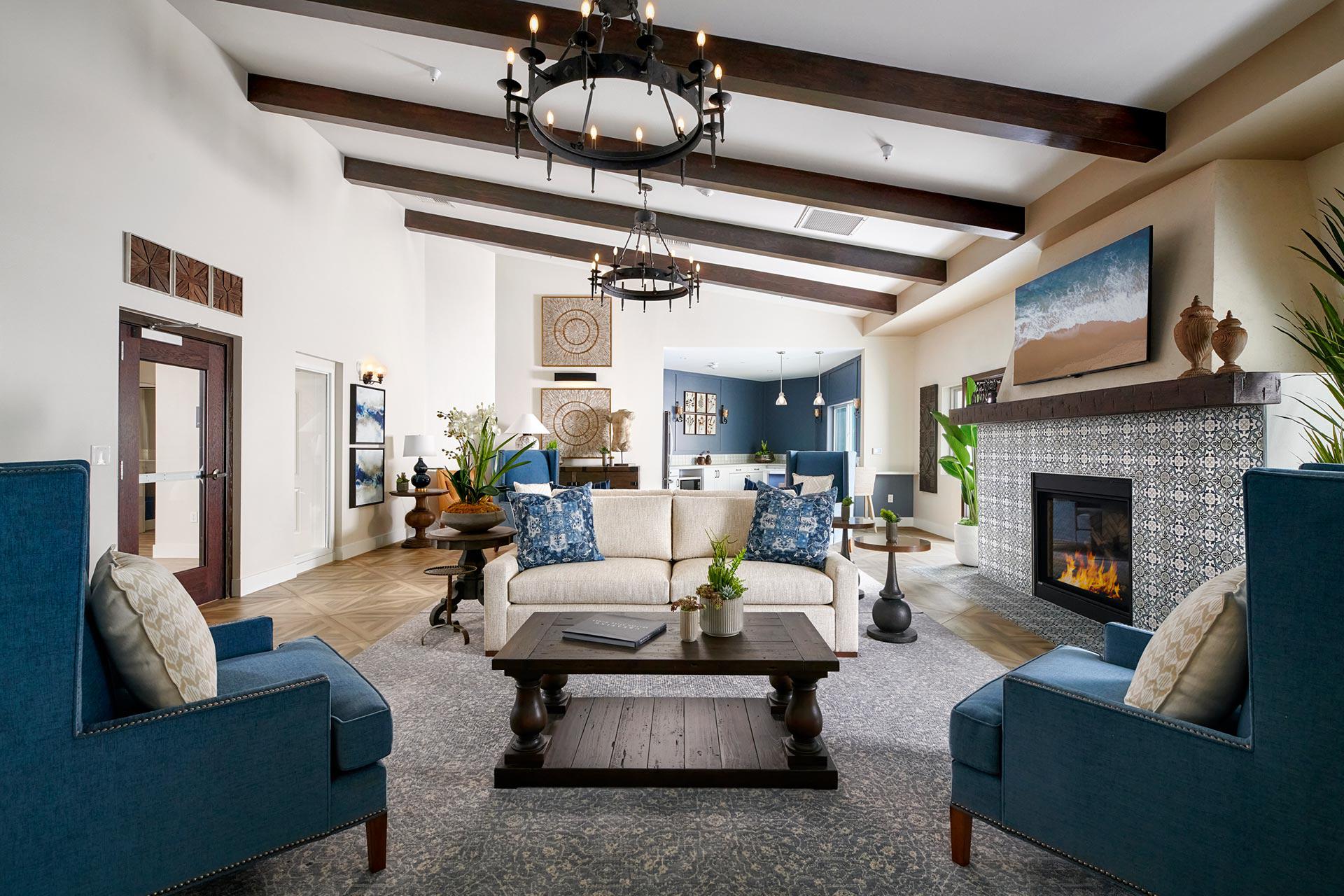 Lighting in Multi-Family Spaces — A Blend of Style and Function
Creating unique, design-forward multi-family interiors is a balancing act between form and function. Spaces should inspire and uplift while having a broader appeal to residents of all ages and style persuasions. To that end, lighting choice must be carefully considered to suit a room's purpose and aesthetic. Some of our recent multi-family projects do just that, blending ambient, task, and accent lighting to illuminate, create dimension, and in some cases, further reinforce the design genre.
Lighting Multi-functional Spaces
In a room that serves several purposes – a common characteristic of our multi-family amenity spaces – lighting must act as a team player to accomplish a variety of tasks. At The Retreat at Midway City, two large candlelit Spanish chandeliers provide comfortable lighting as well as a striking design element for the clubhouse's seating area. In the adjoining kitchen, similarly styled wall sconces work in harmony with smaller pendant lights for focused task lighting. In the club room at One Uptown Newport, striking circular pendants integrate with transitional chandeliers for an inviting environment of gaming and socializing. General overall lighting is accomplished with generous overhead canned lighting strategically placed within the ceiling molding detail.
Lighting can also be strategically used to create points of emphasis or interest. LED backlighting presents a wood veneer-encased art installation on Savina's second-floor lobby and washes the patterned wall treatment in a soft glow. Recessed ambient downlights draw the eye upward and add volume. Also at Savina, soffit-installed downlights cast light down and reflect off bronze mailboxes and marble-look, porcelain floors to create interest.
Enhancing the Architecture
Sometimes it's simply about highlighting a building's architecture in a way that calls attention to its best features. At Purl at Civita, French chateau chandeliers are reimagined in a modern chain waterfall construction. They make a strong design statement while keeping lines of sight open to dramatic floor-to-ceiling window walls. Torch-style wall sconces create upward movement toward a striking dome feature, while downlights provide ambient lighting below at The Retreat at Midway City. A stacked circular fixture in gold accentuates the volume of the two-story height lobby to impart a warm glow below.
In the fitness center at Wallace on Sunset, long recessed LED lights pair with a striped ceiling pattern and colorful textured flooring design to simulate movement and energize this high-activity area. A coffered ceiling echoes the shape and size of the turf-style flooring at Oceanaire as overlapping rectangular fixtures cast ambient light for exercising and safety.
Also at Wallace on Sunset, the club room gets a glow up that amplifies the cozy factor — recessed downlights and linear lighting around floating bookshelves complement the natural light pouring in from oversized glass doors.
Lighting can also afford quieter, private moments in shared spaces. At Purl at Civita, a gold metal and matte black tripod floor lamp provides a peaceful interlude in a residents' reading room, offering moments of relaxation and repose.
For more of our multi-family interior work, check out our other projects. If you would like to collaborate with us on your next venture, please contact us.