Celebrate the Holidays in Multi-Gen Spaces
When designing for multi-generational spaces, there are several design factors to consider. Our goal is to create communal spaces that foster connection, while having private areas that each member of the household can call their own. While designing the shared spaces featured in this blog, we made it our mission to create places where every family member can live in comfort and style, and enjoy rooms that serve multiple purposes. Take a look at how we created living spaces in these homes that are perfect for celebrating the holidays.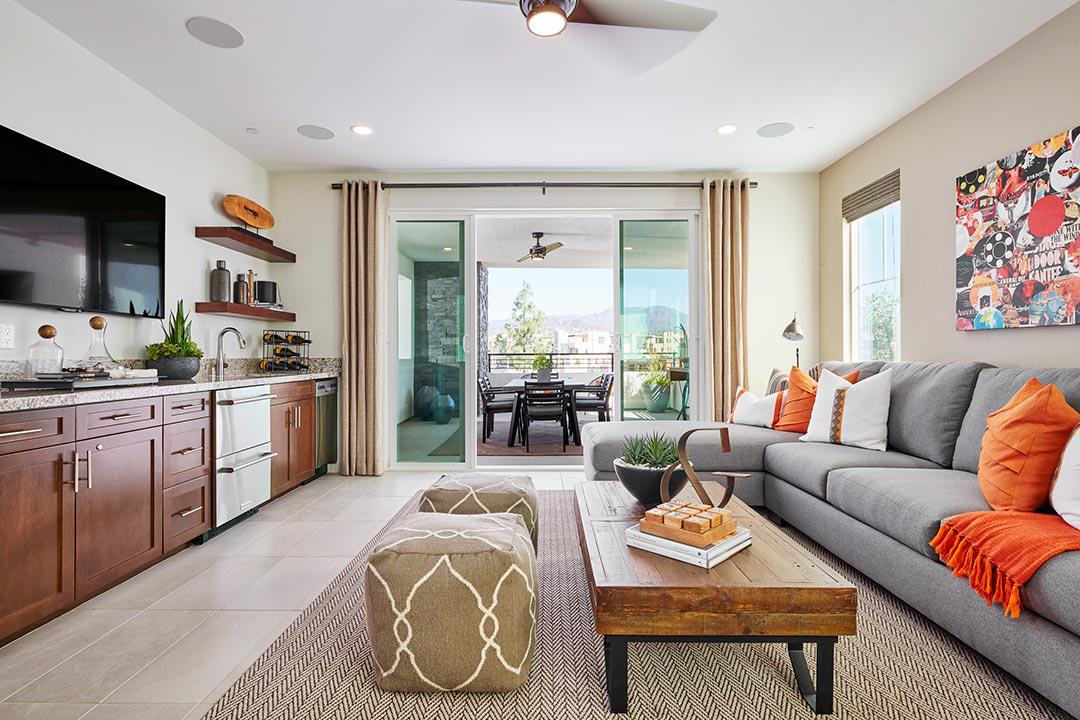 Plan 1 at Lyric at Cadence Park by Tri Pointe Homes – Third Floor Indoor/Outdoor Space | Photography: Tsutsumida Pictures
Multi-functional rooms are a huge asset in modern homes. We designed this third-floor living area inside Plan 1 at Lyric by Tri Pointe Homes to be a flexible space that can be used for a family movie night, teen hangout, or a second conversation area. The built-in mini kitchen and the chic outdoor dining area make this the ideal venue to host a casual holiday gathering.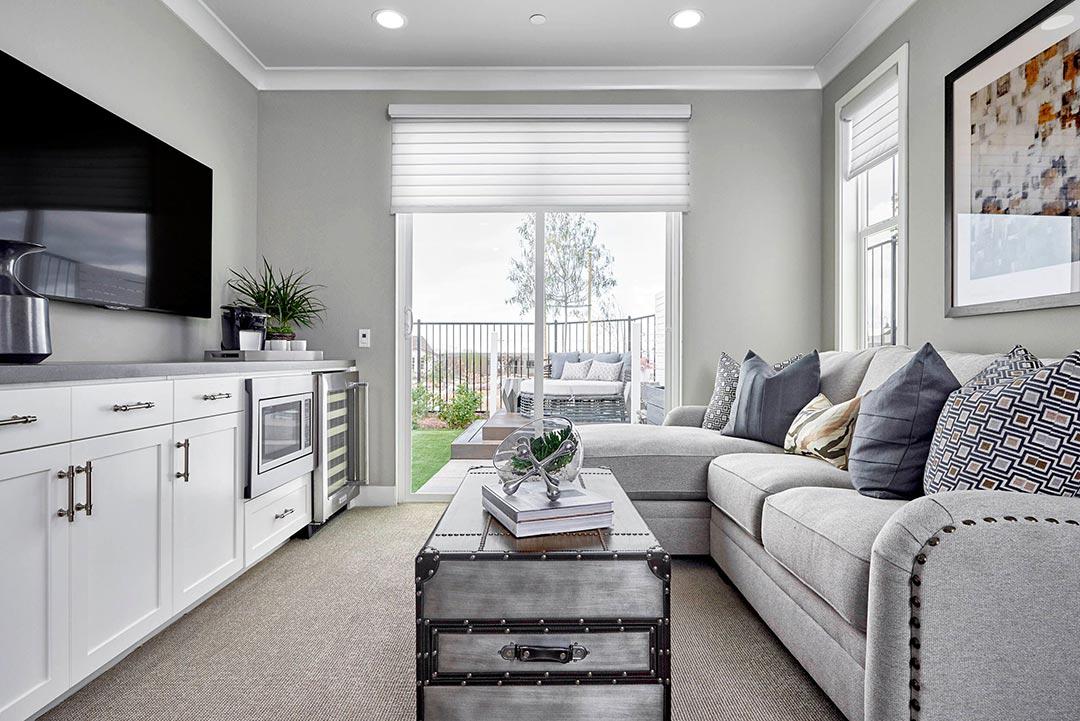 Plan 3 at Mystral at Skyline by Tri Pointe Homes – Multi-Gen In-Law Suite | Photography: Tsutsumida Pictures
An in-law suite allows for multi-generational households to live together in harmony, but also acts as a secluded space for out-of-town visitors to retreat. For this in-law suite inside Plan 3 at Mystral by Tri Pointe Homes, we created a luxurious hotel-feel space so guests visiting for the holidays can have their own private oasis. We added a kitchenette for making midnight snacks or an early morning coffee. The cozy seating area is perfect for reading or unwinding with a favorite show, away from family noise and activity.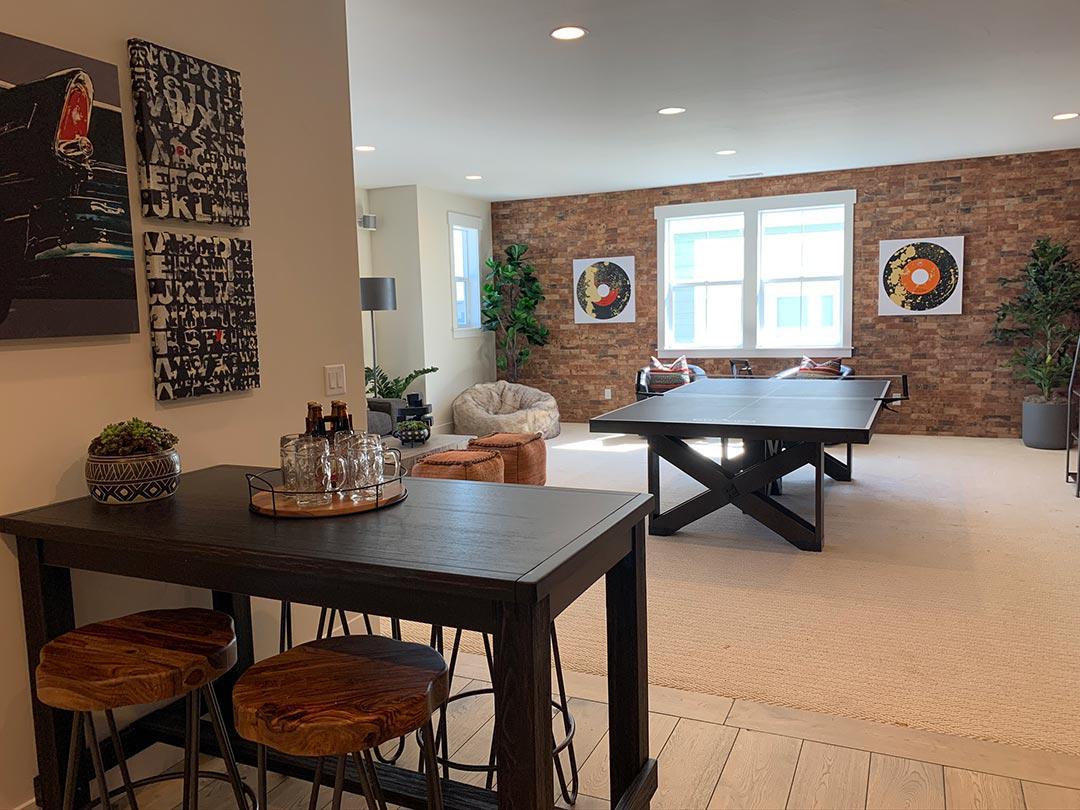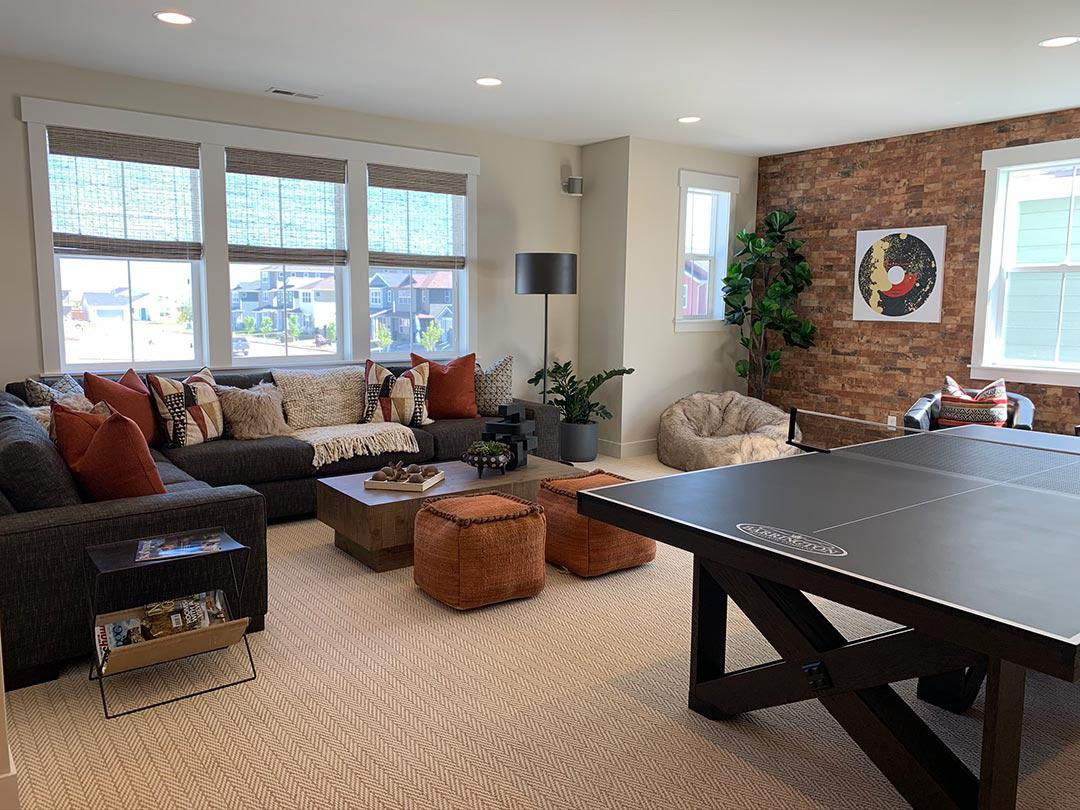 Plan 4 at Appaloosa at Prescott Ranch by Bates Homes– Multi-Gen Bonus Room | Photography: Design Tec
Most people just want to have fun at the end of the day, so having a bonus/game room in your home is, well, a game-changer. To bring some fun into this generous space inside Plan 4 at Appaloosa at Prescott Ranch by Bates Homes, we added a ping pong table that's perfect for challenging young and old. We also included a variety of seating options for playing board games, working puzzles, or lounging while bonding with loved ones.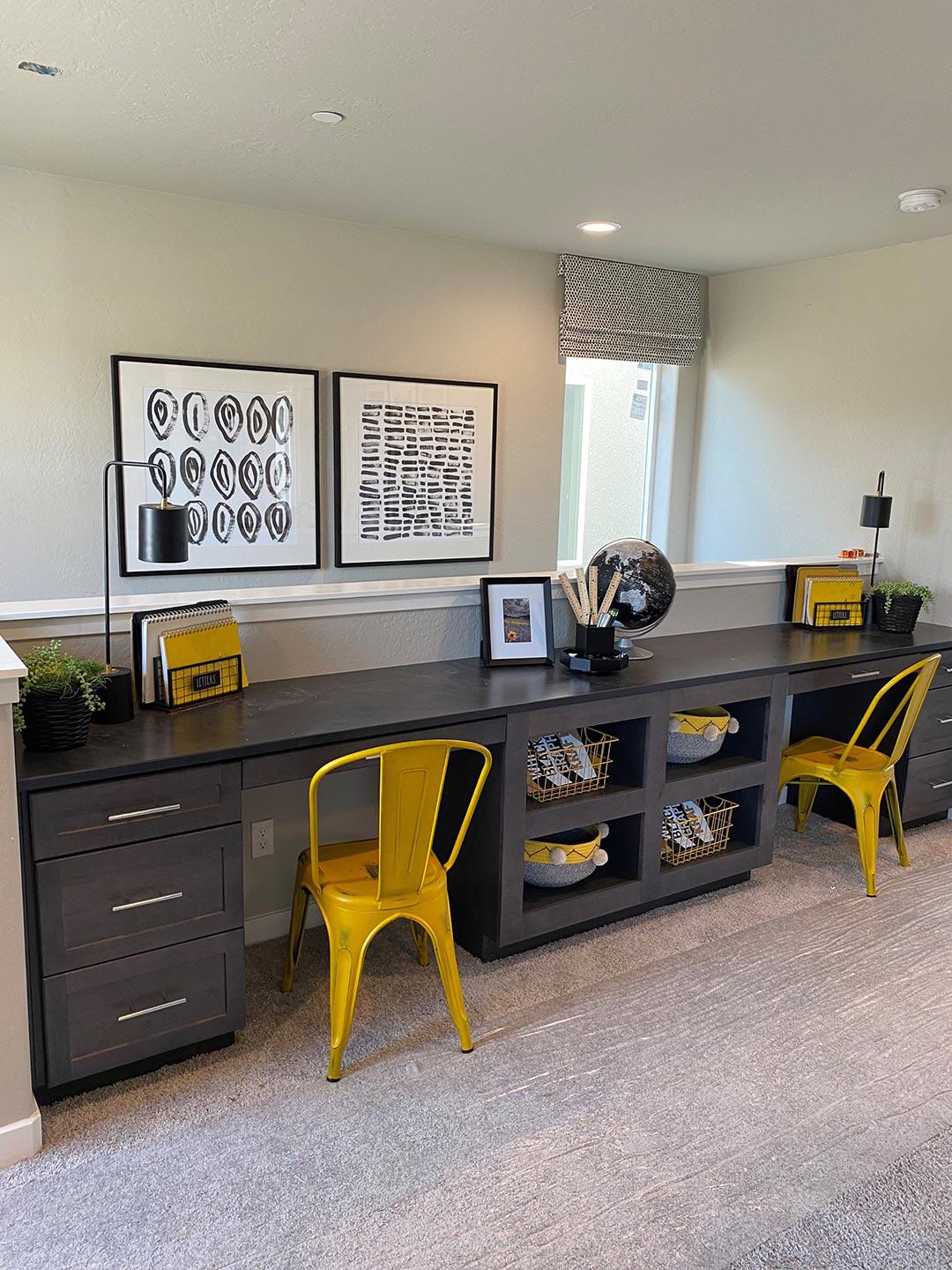 Ariette at Westerra by Wathen Castanos– Multi-Gen Media/Game and Craft Space | Photography: Design Tec
Serious crafters need a playful space where they can let their imaginations soar while having an organized area to store all their supplies. This craft room inside Ariette at Westeria by Wathen Castanos Homes can serve as a designated space for enjoying artistic hobbies, or a homework room for students of any age. We included a versatile built-in to provide plenty of storage for crafting essentials as well as an additional desk space for computer use. During the holiday season, this area can also be a used as a gift wrapping room so you can wrap presents without little ones sneaking a peek!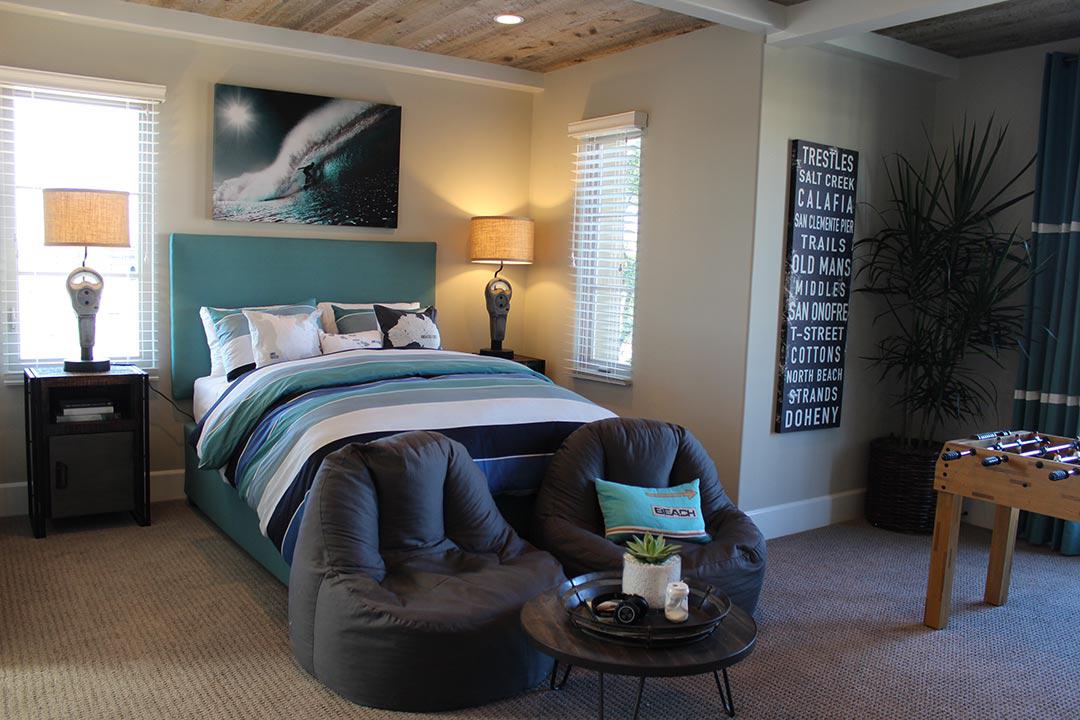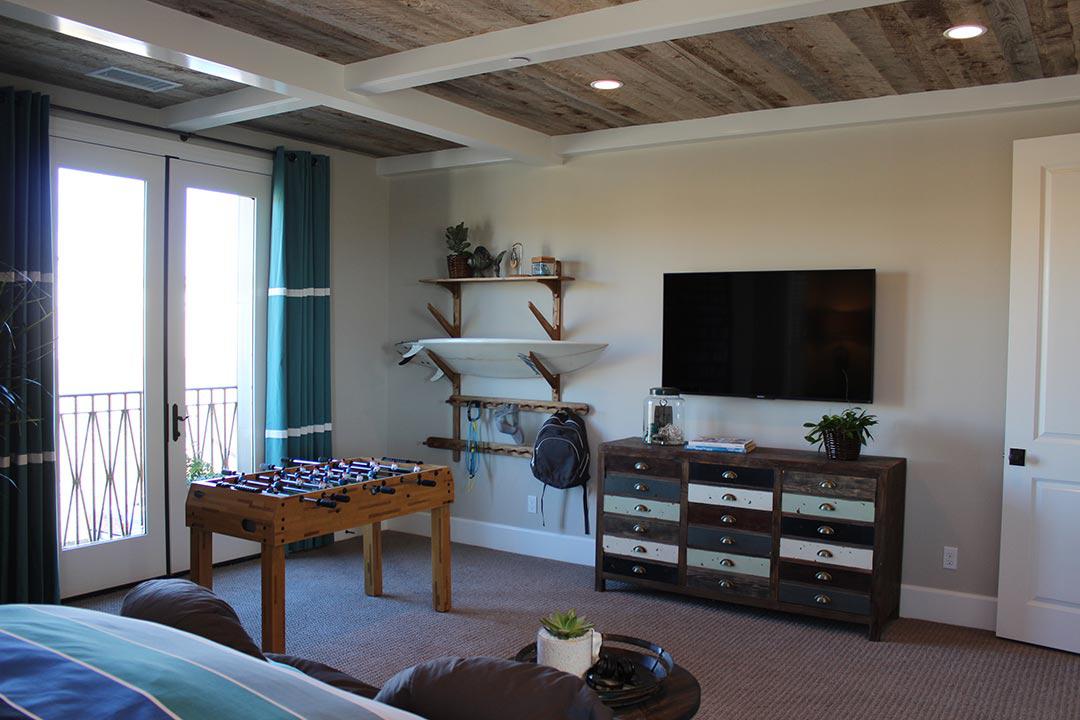 Plan 3 at Sapphire at Sea Summit by Taylor Morrison– College Kid Suite| Photography: Design Tec
The foosball table and soothing color palette create an inviting space for a returning college student to enjoy while home for holiday break. In this spacious bedroom inside Plan 3 at Sapphire at Sea Summit by Taylor Morrison, we designed a casual space with comfy seating for playing video games and hanging out with friends. We also included functional shelving hooks for storage and large patio doors that offer an abundance of natural light. The textured ceiling and beams create a beachy, casual feel that will leave college kids wanting to visit home throughout the year!
To view more of the unique and versatile multi-generational spaces we designed, check out our work here. If you would like to collaborate with us on your next venture, please contact us.