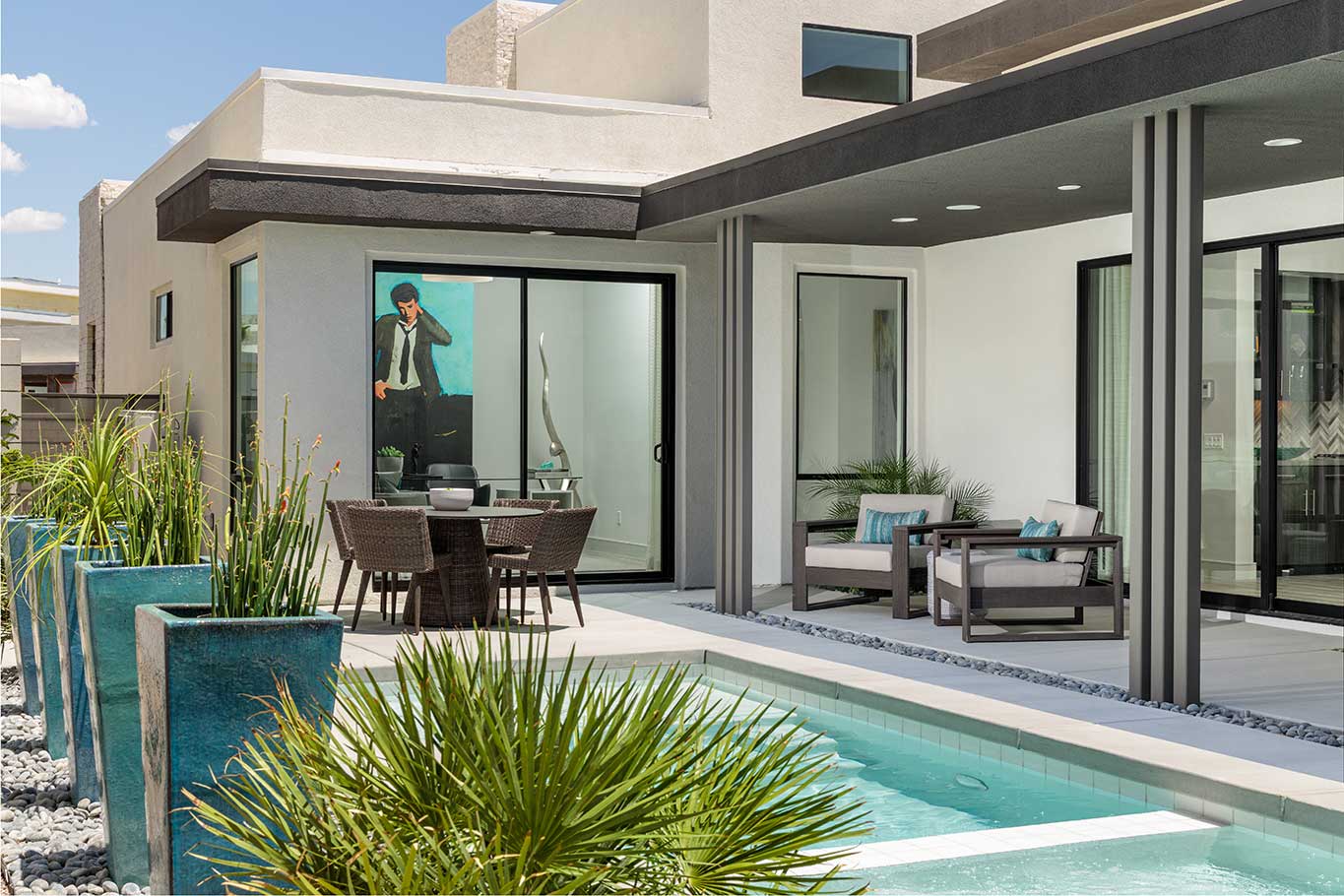 Design Tec in the Desert: VIBE — Providing the Bridge Between Builder and Buyer
When we begin the interior design and merchandising development of a model home neighborhood, we look for opportunities to emotionally link builders and their target market. Our experienced and talented team of designers caters to the personality of the project and the brand of the builder, speaking to buyers through intentional merchandising that ultimately leads to sales. In our recent work at VIBE LX Series, we had the honor of collaborating with Woodley Architectural Group in providing beautifully designed and functional interiors for GHA, whose LXI and LXIII plans received both Gold and Silver awards for VIBE at The Nationals in January of this year.
Notably, one of the many perks of working with Design Tec, a small, boutique design firm is our ability to customize our services to meet the needs of our builder. A key example of this at VIBE LX Series is in the semi-custom detailing and modern design of the cabinetry that we created. These appointments set VIBE LX Series apart from the competition and create a modern aesthetic that attracts the design-savvy buyer of Palm Springs. The strong indoor-outdoor living element of the VIBE LX Series floor plans is a key selling point. We paid very close attention to creating effortless transitions between these areas through the use of complementary furnishings and intentional space planning to highlight the pool and entertainment areas. These strategies were specifically tailored to meet the needs of the GHA brand and the unique architecture at VIBE LX Series.
Sales at VIBE LX Series have been strong and consistent with an average of 5 sales per month since opening mid-2019 and are proof that thoughtful merchandising truly does provide the bridge between builders and buyers. We extend warm gratitude to Mario Gonzales, CEO and President at GHA for his trust in Design Tec and providing us the opportunity to collaborate on VIBE LX Series.