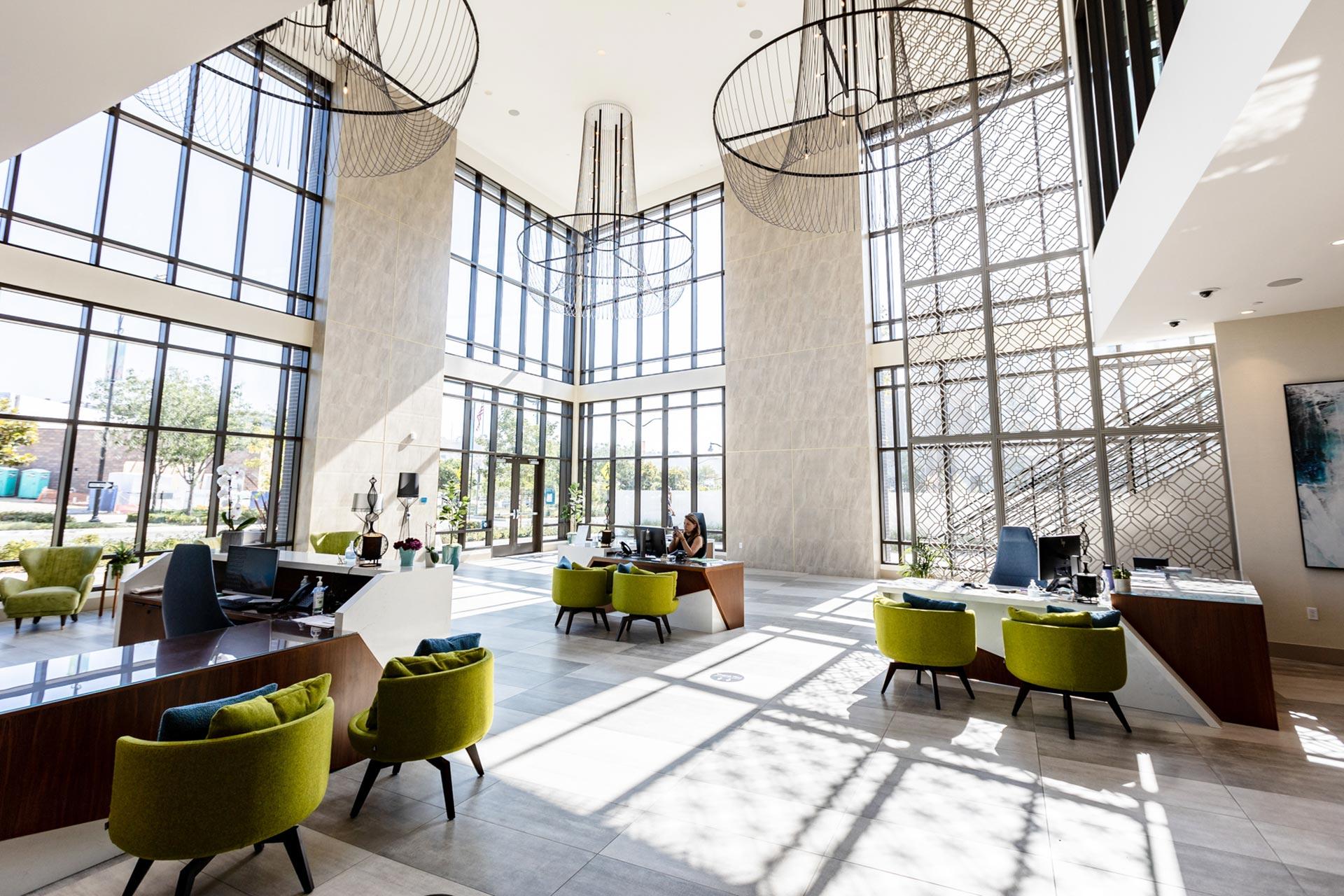 Designing Multifamily Spaces For Health and Wellness
Design is powerful. It has the ability to positively impact people's lives and the way they function in a space. As interior designers, we strive to create environments that are socially responsible and designed with health and wellness in mind. An integral part of a project's early development is ensuring that a building's framework utilizes all opportunities to connect with the outdoors. Designs that strengthen our connection with nature are most successful when interior-architecture elements come together to create a pleasant sensory experience within the space.
Expansive Views and Daylight
Since a substantial amount of time is spent indoors, it's important to explore ways to incorporate natural light into a space for people to feel mentally happy and physically comfortable. It's well known that offices and workrooms with a good amount of natural light and views to the outdoors increase employee productivity and creativity. Inside the open-concept leasing office and lounge at Purl at Civita, we incorporated natural light as a major design element. This approach not only enhances the volume of the space, but produces compelling graphic patterns as light interacts with the large metallic fretwork screen, resulting in an abundance of visual interest for both guests and staff.
The clubroom at The Residences at Escaya never ceases to capture the views from outside. Large glazings help to visually expand the range of sight and allow for a strong connection with the outdoors. Bright sunlight filters into the room during the day, and glowing market lights from the exterior deck provide ambient light at night.
Creating Outdoor Connections
More and more multifamily communities are choosing to provide their residents with an environment that is fun, feels fresh, and promotes a balanced and healthy lifestyle. COVID cabin fever is real. People have a natural need to be in a clean environment that feels open and connects with the outdoors. The collapsible wall at the club and game room at Purl at Civita expands the space and enables easy access to the outdoor lounge. A Big Ass Fan® helps with the air circulation and keeps the game room cool and ventilated during the warm summer months.