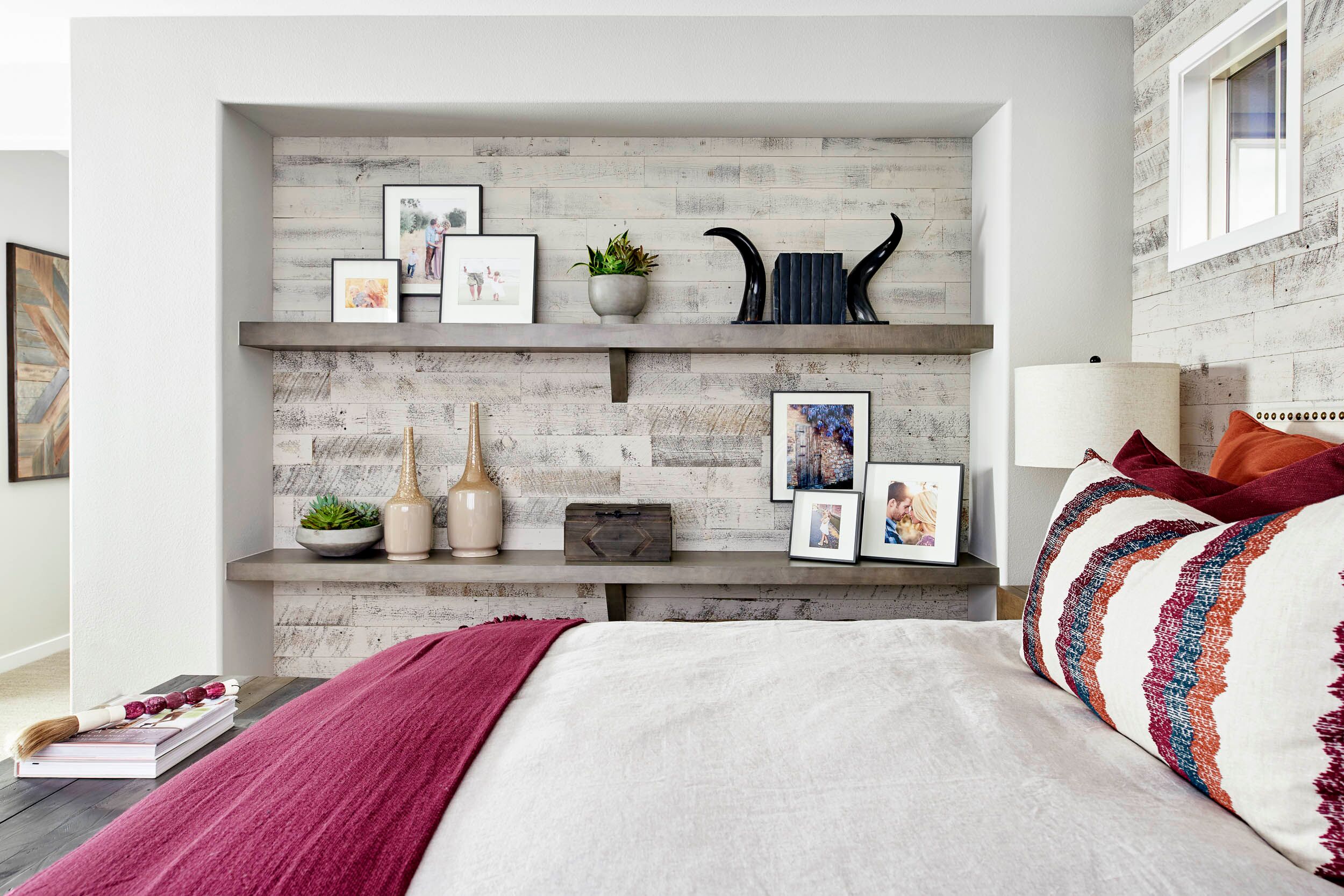 6 Ways to Style Shelving at Home
As many of us are spending more time at home lately, you may be tired of seeing the same scenery walking from room to room. Or perhaps it's time to finally decide on permanent places to keep things like kid's toys, remote controls, or a favorite photo of your recent family vacation. Either way, we've got you covered! Whether you have large built-in units or freestanding furniture like bookcases, dining room hutches, or étages, we have plenty of ideas to help you design balanced, organized, and stylish shelving at home.
1) Creative Storage for Smaller Items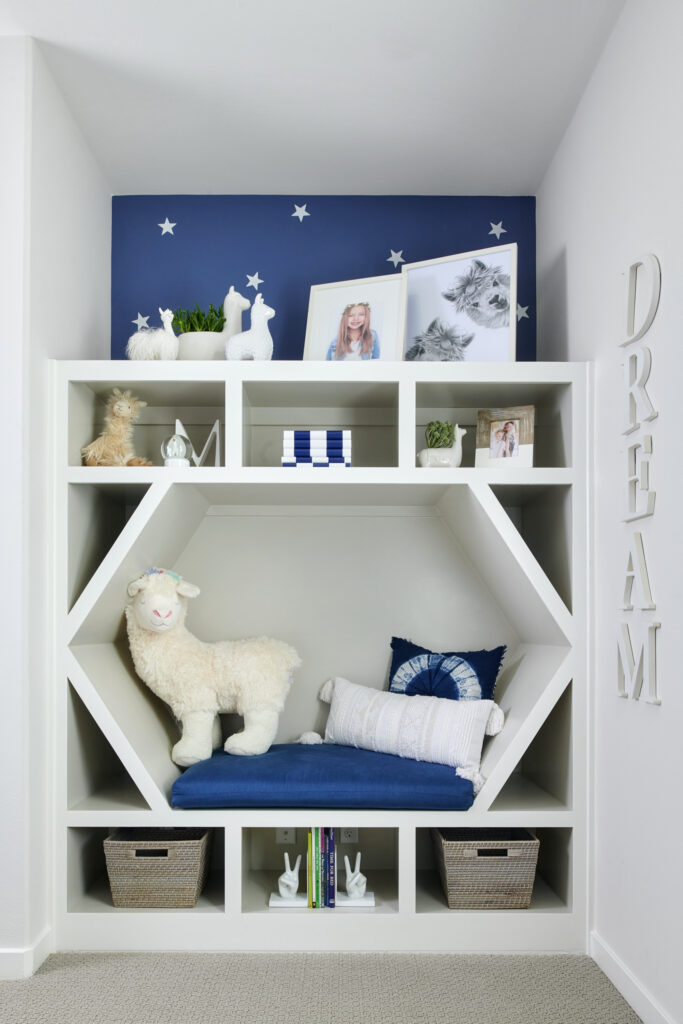 Cava at Rancho Soleo Plan 4 by TRI Pointe Homes. Photography: Tsutsumida Pictures.
Looking for a place to keep smaller items you own and use often? Use baskets or bins to contain the clutter of unread magazines, kid's toys, or remote controls when not in use. Display your child's stuffed animals, small pillows, or folded throw blankets for practical, aesthetically pleasing storage in the playroom, bedroom, or family room.
2) Showcase Your Personality
Cava at Rancho Soleo Plan 3 by TRI Pointe Homes. Photo: Tsutsumida Pictures.
Dedicate a shelf or built-in to a beloved hobby or pastime. Family vacations, sports, or music can create a fun theme for a room. Draw in the home's color scheme by adding pops of color to tie it all together.
3) Unique Items Used Only on Occasion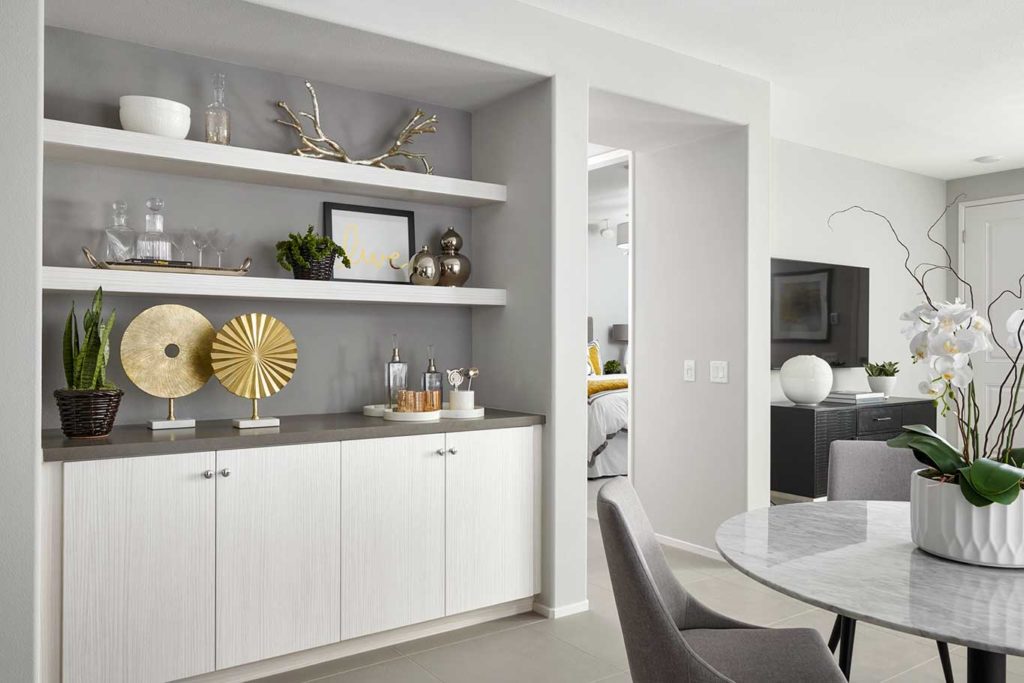 Hazel at the Preserve Plan 1 by TRI Pointe Homes. Photo: Tsutsumida Pictures.
In the rooms where you typically entertain guests, arrange practical items that are display-worthy. Less-often used barware like martini glasses and cocktail shakers make great display items. Not a big drinker? Over-scale serving utensils, a beautiful tray, a tureen, a platter on a stand, or an unusual serving bowl are some more nice options.
4) Ideas for the Bathroom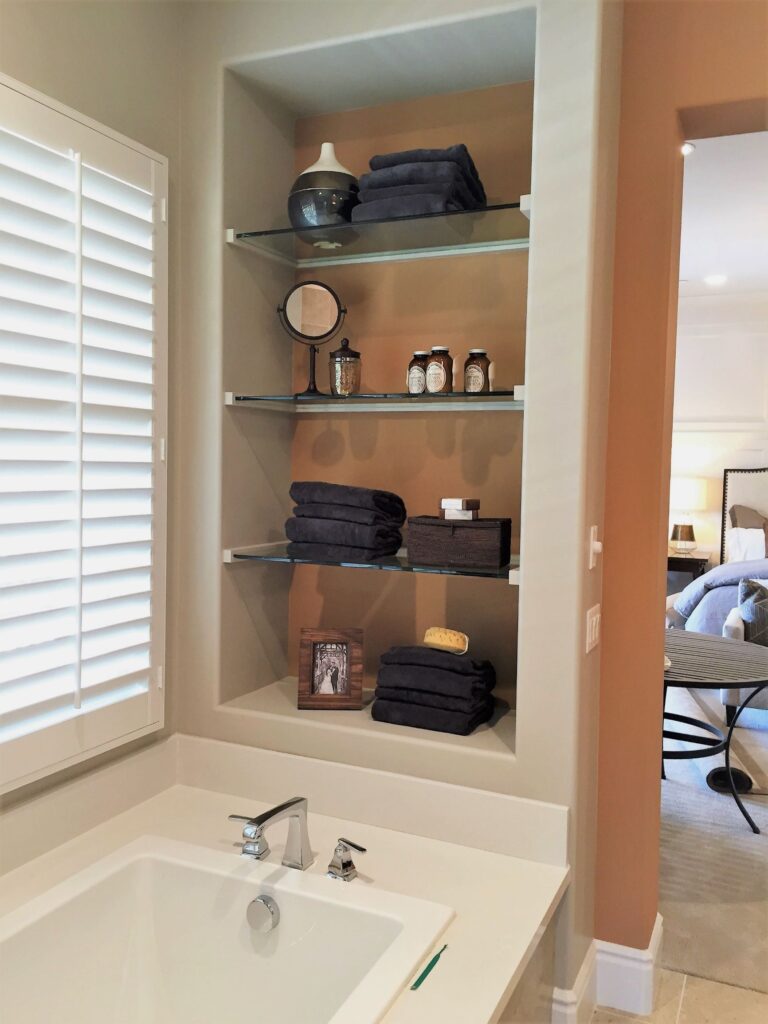 Aster Heights at Rosedale Plan 1 by Brookfield Residential. Photo: Design Tec.
Display beautifully packaged spa products and folded linens in the guest bathroom. Support local small businesses by choosing locally made soaps, candles, or lotions for your guests to see when they powder their nose.
5) Energize Your Shelves with Plants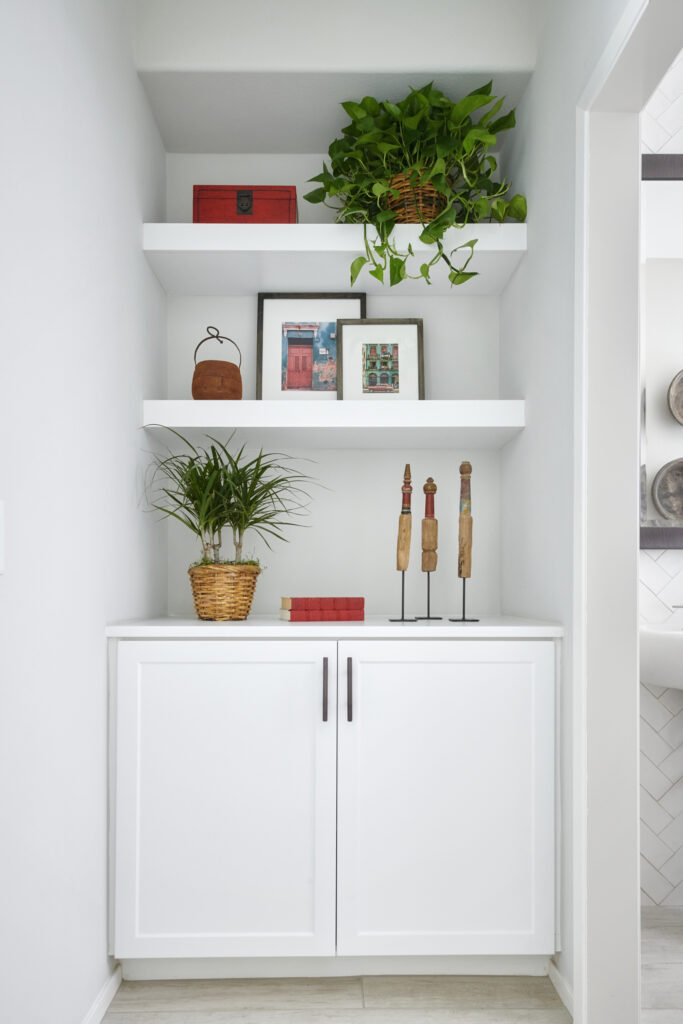 Hazel at the Preserve Plan 2 by TRI Pointe Homes. Photo: Tsutsumida Pictures.
Bring in lush, leafy plants to energize your home. Pothos is a common favorite, as caring for them is simple. These plants thrive even in low light and do quite well indoors. With vines that trail over the shelf, a pothos plant softens an otherwise geometric display.
6) Style Shelving for Your 9 to 5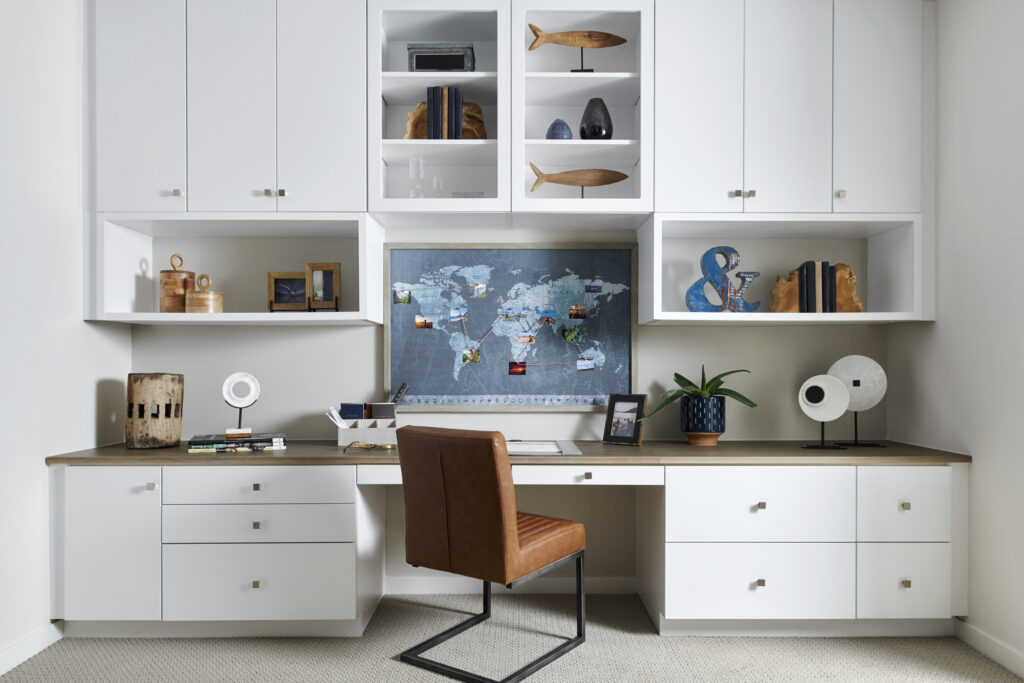 Cava at Rancho Soleo Plan 4 by TRI Pointe Homes. Photo: Tsutsumida Pictures.
Joining virtual conferences from home? Personalize your Zoom backdrop with shelving related to your industry. If you're a writer, display reference books and quotations that inspire. If you're a wedding planner, show framed invitation samples, images of different wedding venues, and fresh flower bouquets in soft colors. For any industry, display your company's logo, mission statement, or the charity you support if possible. Reinforce your intentions by using your personalized background as a marketing effort for other Zoom participants to see.
Are you ready to start styling your shelves? Share your photos and comments with us on Facebook or Instagram @DesignTecInc. Design Tec is a boutique interior design firm founded on the principles of style and function. We serve the homebuilding, hospitality, and luxury residential marketplace. Want to get in touch? Reach us at or at (949) 221-4300.